Brake Components for 2018 Cadillac CTS
No.
Part # / Description
/ Price
Price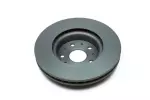 Front Disc Brake Rotor
Rotor, Left
CTS. 17 inch wheel. With awd, without vsport. Without CTS V, without vsport. With heavy duty, without zl1, lt. Brembo Front Brakes. Most GM OE brake rotors sold in the U S are Ferritic Nitro-Carburized, or FNC rotor\ These rotors typically last two times l ...
Backordered
Backordered
Multi-Purpose Bolt
Rotor Bolt, Left
This GM Genuine Part is designed, engineered, and tested to rigorous standards and is backed by General Motors
Multi-Purpose Stud
Wheel Stud, Right
This GM Genuine Part is designed, engineered, and tested to rigorous standards and is backed by General Motors
Front Driver Side Brake Shield
Backing Plate, Right
This GM Genuine Part is designed, engineered, and tested to rigorous standards and is backed by General Motors
Pad Kit (Replaces Part Number 23441307)
Brake Pads
Integrally molded - friction material molded to backing plate for bond integrity Premium shims, slots, and chamfers help to diminish noise, vibration, and braking harshness This GM Genuine Part is designed, engineered, and tested to rigorous standards and is backed by General Motors
Front Disc Brake Pad Set (Replaces Part number 13329562)
Brake Pads
Integrally molded - friction material molded to backing plate for bond integrity\
\
Premium shims, slots, and chamfers help to diminish noise, vibration, and braking harshness\
\
This GM Genuine Part is designed, engineered, and tested to rigorous standards and is backed by General Motors
Front Driver Side Hydraulic Brake Hose
Brake Hose, Left
ATS. Left. Without v-series. Sedan, with awd, with heavy duty. Coupe, without awd, without v, with heavy duty. Without awd without CTS V. Coupe, with awd, all. Is designed to carry hydraulic fluid throughout the hydraulic brake system This GM Genuine Part is designed, engineered, and tested to rigorous standards and is backed by General Motors
Front Passenger Side Hydraulic Brake Hose Assembly
Brake Hose, Right
CTS. ATS. Right. Sedan, with awd, with heavy duty. Without v-series. Code bub. Without awd, without v, all. Is designed to carry hydraulic fluid throughout the hydraulic brake system This GM Genuine Part is designed, engineered, and tested to rigorous standards and is backed by General Motors
Front Wheel Speed Sensor
ABS Sensor, Right
With awd, without pre-crash. ATS. Without collision avoidance. CTS. Coupe, without awd, without v, without collision wrng. Sedan, with awd, without collision wrng. Without collision warning sys. Restores ABS function and performance caused by failed wheel speed sensor
Front Wheel Speed Sensor
ABS Sensor, Left
With awd, with pre-crash. ATS. With collision avoidance. CTS. With collision warning sys. Sedan, with awd, with collision wrng. Coupe, with awd, with collision wrng. Restores ABS function and performance caused by failed wheel speed sensor