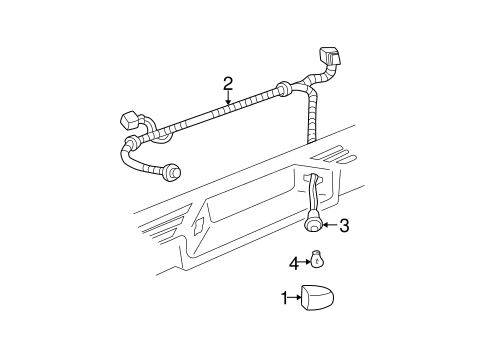 No.
Part # / Description
/ Price
Price
License Lamp
License Lamp, Right
DUE TO A DESIGN CHANGE. THE LAMP IS BLACK IN COLOR WHICH REPLACES ALL OTHER COLORS. REPLACE IN PAIRS TO MATCH. ALSO IF NEEDING THE MATE ING SOCKET USE PART NUMBER. 88986416.
Side Marker Light Socket
Socket, Left
Yukon XL with denali, side marker. Cadillac Escalade EXT. 1996-98, side marker. Without Regency. Park lamp (ls44). 1998-02, tail. Rear. 4 door. 2003-05. Stop/tail. With leads. 1993-97, tail. Gmc, side lamp. Sedan, 2000-02. 2 door, back up. 1995-02, 2000-02 ...
Bulb
License Lmp Bulb, Right
Composite headlamps, without denali, Escalade. Chevrolet Avalanche, without cladding. Headlamps & side marker lamps, 1982-88. With retractable headlamps, 1988-89. 1984-85 LeSabre sedan, side marker. Coupe & sedan, 1982-88, side marker. 1985-87 with sealed ...