Brake Components for 2006 Chevrolet Malibu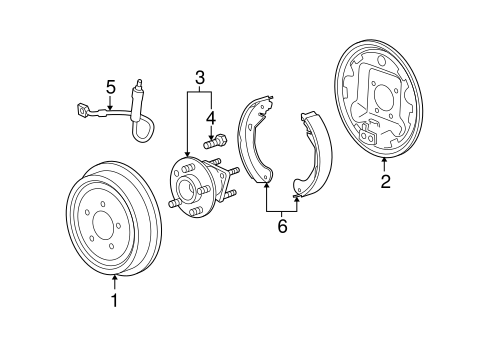 No.
Part # / Description
/ Price
Price
Discontinued
Discontinued
Rear Wheel Hub and Bearing Assembly with Wheel Studs
Hub & Bearing, Right
Malibu, Malibu Maxx. Rear drum brakes. HHR. G6. LS & lt, without abs. Allows the wheel to rotate with minimal friction Supports the weight of the vehicle Maximum lateral stiffness for optimum ride, handling, and driving dynamics GM OE parts are built to help withstand potholes and designed to maximize seal life GM OE bearing designs are dimensionally optimized to work with their mating parts
Discontinued
Discontinued
Discontinued
Discontinued
Rear Drum Brake Shoe Set
Brake Shoes, Right
Drum brakes. Malibu. Rust-preventive coating to help protect against corrosion Direct fit; no retrofitting is required This GM Genuine Part is designed, engineered, and tested to rigorous standards and is backed by General Motors
Discontinued
Discontinued
2 This part contains hazardous materials. Extra shipping costs apply.
No.
Part # / Description
/ Price
Price
Rear Disc Brake Rotor
Rotor, Right
G6. Cobalt. Without special suspension. Coupe, disc brakes. G5. SS. Malibu Hybrid. Disc brakes, sport. Aura Green Line, Aura. Inspected for balance, resulting in smooth brake operation and noise reduction
Discontinued
Discontinued
Discontinued
Discontinued
M12x1.5x40 Multi-Purpose Bolt
Wheel Stud, Left
This GM Genuine Part is designed, engineered, and tested to rigorous standards and is backed by General Motors
Backordered
Backordered
Discontinued
Rear Driver Side Disc Brake Caliper Assembly
Caliper, Left
Helps stop the vehicle when the brakes are applied This GM Genuine part is designed, engineered and tested to rigorous standards, and are backed by General Motors
Discontinued
Discontinued
Rear Disc Brake Pad Set with Clips
Brake Pads, Right
Disc brakes. Malibu, Malibu Maxx. G6. Malibu Hybrid. Aura Green Line, Aura. Integrally molded - friction material molded to backing plate for bond integrity Premium shims, slots, and chamfers help to diminish noise, vibration, and braking harshness This GM Genuine Part is designed, engineered, and tested to rigorous standards and is backed by General Motors
Discontinued
Discontinued